pow wow time AND august, 2017
sure did enjoy watching miss Phoenix dance fancy shawl. never gave any thought to her shawl…it fit 2 years ago, this year it was tiny and PJ's wing span has grown. no wonder it was giving her arms fits. now i understand, sweet child. we enjoyed watching the others, visiting with friends and checking out the vendors. got goodies for 3 grandsons. phoenix found a cool 3 picture wolf 8 x 10 framed…that was her prize! we had great fun…next time i'll just get her a new shawl and she can dance intertribal with it, no pressure of regalia. will work much better, i believe. was sorry to read that the Cosby Powwow was cancelled this year. i think someone bought that section of land, hope they tend to it with love and care and respect.
have enjoyed many many many watermelons this year. literally and the cantaloupes were all delicious  too! a GREAT year for melons. my local CSA even grew some for me. i've been buying fruits, veggies and meats from these guys for several years. they deliver to dandridge every wednesday down at the dike.  and now, misty morning farms are some of our new best friends. i wish them every success. they are working their fannies off on the farm and at the fruit and veggie stand, but they have a good location, near the interstate I-40 exit 415 by the marathon station (only gas station on this exit)  and close to dandridge, but far enough away to be country! smile it's amazing to me how much MMF's  Angie looks like my friend Becky. they could easily be sisters.
watched an eclipse this week. the moon covered the sun, the world all got quiet (need ear plugs here) haha it was magical, mystical,  i really did enjoy it! 99% here…total across some TN robin and family and many friends of theirs  i know met at billy's house is crossville to watch it as total…know we all looked so cool in our eclipse shades from AZ! smile
had fun going shopping and lunch with robin on friday. tried out a new burger place in morristown, hunted up a shade tree (good luck) then got to look at everything at the new aldi. they have a manuel wheelchair with a basket on front. was hoping the basket came off for getting in and out, but i guess if it did, someone would help themselves to the basket. i was thrilled to be able to go shopping. it's been forever!  i still think their 25 cent buggies are the bomb! no buggies out in the car area, you bring back that cart to get your quarter back…genius idea….we found our first Aldi in Rolla MO wayyyyy back in the day. we'd shop for us, the ol man and sue and for uncle john. 3 lists, a truck bed full of goodness. we found a good butcher shop in rolla,  rolla was 60 miles from elk creek and we'd make a once a month shopping run.  but still not as good as the butcher shop at norwood. local grass fed..we fed our family well, beef, pork, chicken, fish, huge gardens…no chemicals…glad we had the chance to do that, to live that life…to raise our 4 children with a country life. no sirens, traffic horns, yelling people, smog, fear, danger…instead, we had a skeleton key for the back door, christmas lights to light up the back porch, animals, chores, stars, respect for water, land, family! quiet. until it was a celebration and we put the big speakers out on the porch roof and we ROCKED that valley! family and friends always there to help us in our joy. my family, we ALL did a lot of work, money was always tight,  but lordy, it was fun! that was our life on the Johnson farm in Bado, MO…thanks Mina, for taking a chance on us! we loved tending to your farm. it made us a most wonderful, HOME, too. just like you gave your family there before us. it was a beautiful home, acres of grass and trees and wildlife. Our BEST garden spot, EVER!!! big SMILE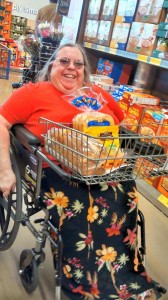 my dreams did come true.